Testing Goodmama Bamboo Serged Fitted
- 3.5 out of 5
Retails for $29.00 US
(
WEB
) (
BLOG
) (
FACEBOOK
)
I've been using this diaper now for about 2 weeks as a nighttime diaper. The fit is ok, for my girl however I find the crotch to be a little too skinny - but so far.. no leaks. So maybe I'm just used to seeing crotch bulkiness and this that that's normal? It's a cute diaper, the shrinkage was minimal and it stays soft after a quick tumble in the dryer. (I hang dry my diapers and boil them once in a while to get rid of any potential crunchiness. If they get a little stiff, I will give them a slight tumble in the dryer.) I read over reviews claiming they had issues with missing or breaking snaps. I have yet to have this problem and my diaper is a second hand well used but still in great condition diaper. I'm not a fan of the soaker. It twists and sometimes sneaks out from the leg holes. I don't think I'd ever willingly buy this diaper at full price. I find it a little too steep. In all honesty, I don't understand the hype over this diaper. Good PR?
Pros:
Absorbency

- VERY absorbent, but needs a cover


Fit

- stretchy for a snug fit


Leaks

- none at all


Softness

- incredibly soft


Drying time

- 1-2days


Insert

- booster is attached inside, slide an insert in between the diaper and the booster


Ease of Use

- fairly easy

Style

- Comes in cute patterns!

Cons:
Absorbency

- I didn't know much about bamboo diapers... got a big wet bed when I realized I was half asleep and forgot to put a cover on it.


Fit

- bulky especially with a cover, crotch area is skinny.


Leaks

- unless you get a good fitting cover, you may feel wetness after an overnight pee


Retail price

- a little steep for my taste


Drying time

- takes a long time to dry


Insert

- twists

----------------
Kiwi Pie One-Size Bamboo Fitted
- 3.5 out of 5
(
WEB
) (
FACE BOOK
)
Retails for $25.00 CAD
Made by
The Natural Baby Company
(think GroVia). I love this diaper. It's very trim for a one-size bamboo. Incredibly absorbant! Super soft and stretchy, and I love that the snaps are hidden. The serging is soft, so it won't irritate the baby's skin. I use this as a nighttime diaper. It has 2 doublers inside and I use a wool soaker from
woollybottoms.com
as a cover and this seems like it's water tight. All in all I think this is a great diaper. My only issue is the slight twisting of the bamboo insert after washing. A bit of tugging seems to straighten out the fibers though! UPDATE: ok, wash number 6... and the insert is getting on my nerves... it bunches since there is no snaps to keep it in place. hmpf.
Pros:
Absorbency

- Super absorbent


Fit

- super stretchy, nice fit


Leaks

- No leak - slight dampness after 6 hours of wear


Softness

- incredibly soft


Ease of Use

- place 2 boosters in the bottom of the diaper. it's as easy as that


Style

- So many cute patterns and vibrant colours!

Cons:
Drying time

- 1- 1.5 days

Retail price

- a little high, but willing to spend the extra few bucks for the cuteness factor.


Insert

- 2 bamboo booster like inserts... they shift with my wiggly baby

Ease of use

- the inserts twist

----------------
WoollyBottoms Wool Covers
- 4.999 out of 5
(
WEB
) (
BLOG
) (
FACEBOOK
)
Retails for $19.00 CAD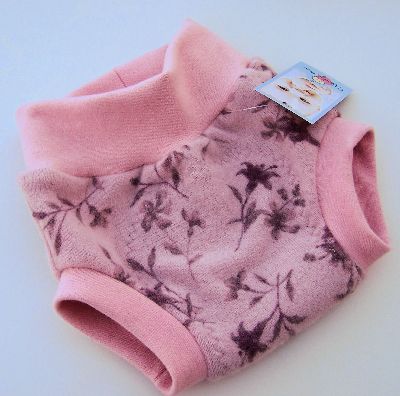 I picked this up from The Extraordinary Baby Shoppe last week after the kind lady behind the counter suggested I try it. FANTASTIC cover, comes pre-lanolized for you. I was planning on making my own, but I adore this cover. Only needs to be washed once a week (as long of no messes made it's way) so I'm thinking of getting me a second to help me through washes. I've tried other covers and found them too thick using them over another already bulky diaper. These are pretty trim considering the material being used - recycled wool anything! Thumbs up on this one. Check out her
site
for other cute woolly things!
Pros:
Absorbency -

Repels well! Comes pre-lanolized


Fit

- great fit with stretch at waist and legs


Leaks

- covers well. no leaks.


Retail price

- reasonably priced!


Insert -

has a double strip of wool at the crotch for added protection


Ease of Use

- slip on, slip off


Style -

every cover is an original since the maker recycles wool to make these. She has a great eye for colour palettes. It was hard to pick just one cover.

Softness

- merino or cashmere wool - makes me wish my underwear were the same...
Cons:
Drying time

- 3 days for complete dryness


Ease of use

- hard to be sneaky with a diaper change in the middle of the night - but I feel that way about ALL wool and fleece covers
NOTE: I did not receive any compensation for this review. I have purchased all diapers at full or sale price. (Goodmama was purchased as a gently used diaper.)